Our website is closed
News
Get the latest news here. Read comments of others and feel free to leave comments of your own.
Second season titles
Planet American Dad has got its hands on some confidential information. We now have all the episode titles for the second season. You'll probably recognise the first four episodes as they aired as part of season 1, but were produced as the second season (the clue is in the episode numbers).
2AJN01 Roger N' Me
2AJN02 Helping Handis
2AJN03 With Friends Like Steve's
2AJN04 Tears of a Clooney
2AJN05 The American Dad After School Special
2AJN06 Camp Refoogee
2AJN07 Failure is Not a Factory-Installed Option
2AJN08 Dungeons and Wagons
2AJN09 Iced, Iced Babies
2AJN10 Lincoln Lover
2AJN11 Mission Stan-Possible
2AJN12 Irregarding Steve
2AJN12 House of Horror
2AJN13 Revenge of Stan's Grandpa
2AJN13 Bush Comes to Dinner
2AJN14 The Best Christmas Story Never
2AJN15 I Can't Stan You
2AJN16 American Dream Factory
2AJN17 A.T. The Abusive Terrestrial
2AJN18 Four Little Words
2AJN19 An Apocalypse to Remember
2AJN20 Black Mystery Month
2AJN21 The Magnificent Steven
2AJN22 The Vacation Goo
2AJN23 When a Stan Loves a Woman
2AJN24 Joint Custody
All the titles have been added to our database and can be viewed in our season 2 episode guide. As we get more information about the episodes themselves it will be posted here and in the guide. The new season starts in November, although we believe there will be a few episodes sneaked into September. For now you'll just have to make do with the re-runs and Planet American Dad.
Third season of American Dad on order
Good news everyone, Fox have ordered another season of American Dad for the 2007-08 season. 22 extra episodes have been ordered. Mike Barker, Matt Weitzman, and Seth MacFarlane are all on board for the new episodes.
The new episodes have been ordered a long way in advance due to the fact that for an animated show such as American Dad it can take upto 9 to 12 months to produce an episode. Plans for a third season come in response to the show's reasonable first season reception:
"In its first full season following a May 2005 premiere, 'American Dad' proved to be a fairly solid companion to 'Family Guy' in FOX's Sunday comedy lineup. The show averaged 7.25 million viewers per week and a 3.6 rating among adults 18-49. In both measures it held onto better than 85 percent of the 'Family Guy' audience (8 million viewers, 4.1 in 18-49)."
When does American Dad return?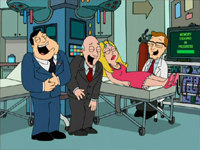 According to the Futon Critic website American Dad will be returning with its new season on November 5th at 8:30 pm.
Don't worry though as there will be opportunities to see re-runs between now and then, which we will keep you posted on starting with Francine's Flashback next Sunday at 9:30 pm on Fox.
Planet American Dad will also be continually updating the site throughout the summer and keeping you up to date with the latest American Dad news and season 2 spoilers and rumours.
Season 2 spoilers
The summer is going to seem very long with no new American Dad until the fall, but hurrah for Planet American Dad as we have some season 2 spoilers to keep you going.
Season 2 will kick-off with The American Dad After School Special in September. After Stan criticizes Steve's new overweight girlfriend he realizes his own weight problem and goes overboard exercising. Other things to look forward to in season 2 include:
Stan joining a section of gay Republicans
Francine's desperate attempts in conceiving another child
George Bush's dinner with the Smith's
More information as we get it.
New fall time slot on Fox
According to the Futon Critic website American Dad will be shown at the earlier time of 8:30 pm on Sunday nights on Fox from the fall. This will schedule the show right before Family Guy and just after The Simpsons. Hopefully this move will be a successful one, and the show will pick up in the ratings.
Page: [1] 2 3 4 5 >> of 22
News Categories
American Dad

Australasia

Canada

Europe

Family Guy

In the Press

Merchandise

Planet AD

Seth MacFarlane
Latest News
Second season titles

Third season of American Dad on order

When does American Dad return?

Season 2 spoilers

New fall time slot on Fox